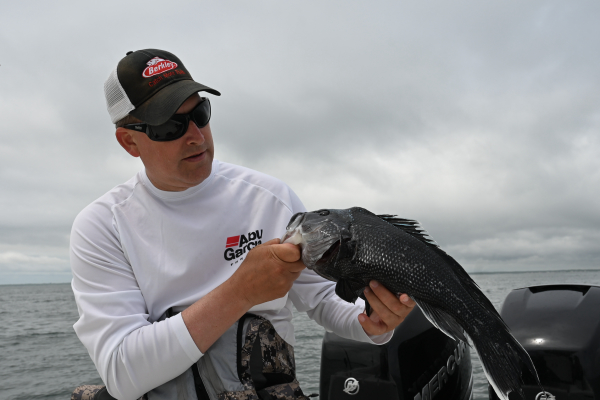 Gatley undertakes a pivotal role in orchestrating the sales endeavors within the Northeast region. With a keen understanding of Mustad's diverse array of fishing tackle and equipment, Gatley is steadfastly dedicated to strategically amplifying the visibility and desirability of these offerings among retailers, distributors, and key stakeholders throughout the Northeast. Proficient in the nuances of sales strategies, market dynamics, and customer preferences, Gatley is resolute in propelling revenue growth, expanding market reach, and upholding Mustad's preeminent standing as the preferred choice for angling enthusiasts in the region.

Like many industry professionals, Gatley grew up hunting and fishing. This gave rise to starting a guide business in the Northeast. Ardent Angler Guide Service targeted tuna offshore and river fishing for trout, steelhead, stripers, and smallmouth bass. His 15-year tenure operating his own guide business brought him to the attention of the nationally prominent sales rep agency, Don Coffee Company, where he transitioned to sales.

In Gatley's off time, you can find him targeting musky in New York and Pennsylvania, although he finds time to get back to his roots fishing offshore for tuna, striped bass, and fluke when the opportunity arises.

Taking pride in growing his territory, Gatley also enjoys the friendships he's fostered as well as the relationships built as a sales manager. He looks forward to helping Mustad continue its vertical growth trajectory while helping his dealers increase their store margins.

When asked what he most looks forward to in the future with Mustad, Gatley comments, "I'm most excited to work with the experienced Mustad team and at their willingness to help a newcomer in their organization while participating in the development of innovative new products."

Dave Wensel, Mustad's Senior Business Manager, said, "Mustad continues to strengthen our sales team in key coastal markets. Capt. Chris Gatley joins the Mustad family as the Northeast Regional Sales Manager, reporting to Brian Perry. Chris's strong customer relationships, coupled with his passion and knowledge of the fisheries, complement Mustad's legacy of trust the consumers and customers expect."

Ben Conley - Northwest Regional Sales Manager

Introducing Ben Conley, the newly appointed Northwest Regional Sales Manager for Mustad. With a deep passion for fishing and a strong understanding of the region's diverse fishing opportunities, Ben brings a wealth of experience to his role to help fuel Mustad's growth. His extensive knowledge of the local fishing scene and his exceptional sales expertise make him a valuable asset to the company. As he takes the reins of the Northwest region, Ben is poised to foster stronger relationships with clients while further promoting the outstanding fishing experiences available in this picturesque corner of the country.

Conley is no stranger to the outdoor industry, growing up working at his family's iconic sporting goods store. The White Elephant was founded by his grandfather in Spokane, WA, in 1948. As a youngster, Conley spent his summers working at the store and the evenings chasing diverse species the Northwest is known for. Attending college to earn a BA in Electrical Engineering, Conley, like so many other people growing up working in the outdoor industry, returned to his roots and began selling outdoor gear after attending university.

In the mid-2000s, Conley had an opportunity to go to work for Pure Fishing as their Northwest Account Manager and spent the next eight years in this role before being offered a new position with Mustad. Conley shared, "I am excited to help this iconic brand grow in the Pacific Northwest. I want to be there to help retailers and individuals have a positive experience both in the store and on the water."

In his off time, Conley loves the opportunity to pursue one of the lesser-known game fish of the Pacific Northwest, surfperch. With the Pacific's unpredictable surf and sometimes large swells, this fish can be quite underappreciated, yet it is a fantastic gamefish in its own right!

When asked what he loves most about the fishing industry, Conley relates, "Finding something new and sharing it has always been one of the joys of working in fishing. To be able to help customers find their own fun is both an exciting and rewarding experience."

As Conley begins his role as the Northwest Regional Sales Manager, he quips, "There is no limit to Mustad's growth in the Pacific Northwest. They want to continue to grow and become vital partners with Northwest retailers while providing anglers the most vital part in any fish-catching experience: a great hook."

Mustads Dave Wensel relates, "Ben Conley joins the Mustad family as the Northwest Regional Sales Manager reporting to me. Ben began his industry experience in his family-owned Sporting Goods store and understands firsthand the challenges our buyers face. Ben is an avid angler and a self-proclaimed terminal tackle junkie. Ben and Chris bring with them over 40 collective years of fishing industry knowledge. They are well respected in their regions and have developed great relationships with the customers based on trust, respect, and service. We are excited to have these two industry veterans join our family."

In addition to the recent new hires, Mustad continues its support of the current dealer base with long-standing regional sales professionals who have already been supporting their regions for some time. Mustad maintains focus by ensuring all areas of the US are well served by the following regional sales managers:
Coby Pawlowski will continue servicing the Southeast territory, namely Florida, and throughout the keys. Pawlowski, a Ft. Myers resident, is an avid coastal angler and snook aficionado. His knowledge of saltwater sportfish hooks and their applications to specific species is an incredibly valuable asset for Mustad.

Bailey Rothrock, a resident of Michigan, will now be focusing on servicing the Midwest. Rothrock takes a keen interest in pursuing clear freshwater largemouth and smallmouth bass. He is deeply plugged into the freshwater fishing community both professionally and personally while closely following the pro fishing circuits at every level.

Adam Wells, the go-getter for Mustad's accounts in TALO (Texas, Arkansas, Louisiana, and Oklahoma), considers himself a bit of a fly junkie residing in the Texas hill country. His vast understanding of fresh, salt, and fly fishing hook applications serves the many large lakes in his territory and all along the Gulf Coast. Mustad is very proud to have a long-standing representative such as Wells serving this key territory.


About Mustad:

Mustad has led the global hook market since 1877. Mustad's mission is to create a comprehensive multi-brand company that leads the fishing tackle industry while focusing on innovation, employee and customer satisfaction, and sustainability. With the addition of LIVETARGET and TUF-Line, Mustad continues to solidify its position as a complete sports fishing brand family. For more information, visit www.mustad-fishing.com or @mustadfishing on Facebook and Instagram.