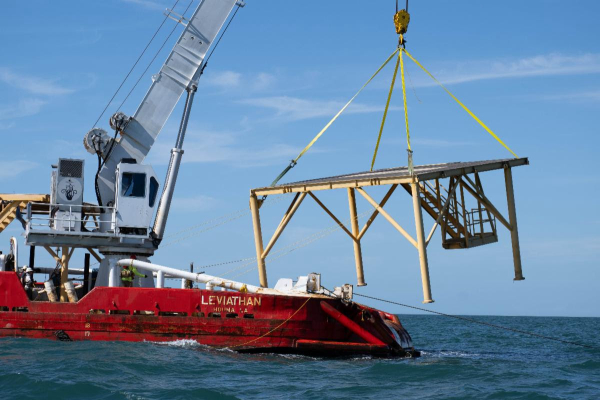 Coastal Conservation Association of Louisiana's REEF Louisiana Program, in cooperation with partners Chevron, the Louisiana Department of Wildlife and Fisheries, and DLS Energy installed a new nearshore reef this week in Vermilion Block 144.



The Vermilion 144 Reef consists of three large helipads that were previously used on an offshore platform. The site was chosen by local anglers as the platform that once stood there was a favorite for red and mangrove snapper anglers. The new reef was built in 80-85 feet of water and is designed to optimize the water and bottom conditions with the hopes of creating the best possible fish habitat.



"It is great to see partners come together to make a project like this happen. DLS Energy supplied the helipads and the construction and when you pair that with the incredible generosity of Chevron and matching funds from WLF, you get a reef of this magnitude," said Rad Trascher, CCA Louisiana Executive Vice President. "And just to make sure our program is headed in the right direction, we stopped by the Rawls Reef at VM 119 and found an incredible amount of snapper."



"CCA is implementing important work along our coast that is vital to the fish, marine life and the citizens of Louisiana," said Leah Brown, Chevron Corporate Affairs Manager. "At Chevron, we are proud to partner with organizations like CCA to support essential structural habitats for shoreline protection and conserve our state's marine resources."



CCA's REEF Louisiana is an initiative aimed at replacing vital fisheries habitat where oil and gas platforms have been removed. It uses repurposed "materials of opportunity" to construct artificial reefs, including items such as pieces of decommissioned oil and gas platforms, retired marine vessels, highway barriers, culverts, and recycled concrete. The Vermilion 144 Reef is the 47th unique artificial reef. Click here to learn more about REEF Louisiana and how you or your corporation can contribute to help restore your favorite fishing spot.



Once the survey is complete, CCA will publicize GPS Coordinates. For more information about this project or CCA Louisiana's REEF Louisiana Program, contact CCA's Rad Trascher at 225-952-9200.