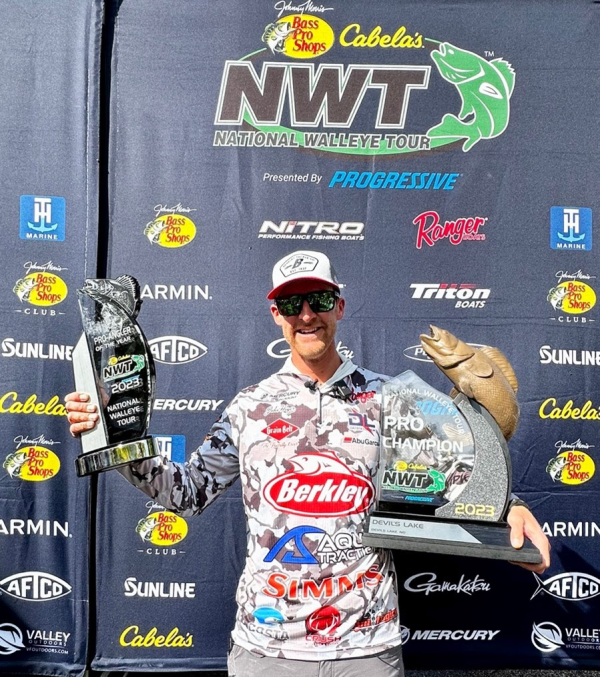 DEVILS LAKE, N.D. Not many anglers get the chance to win an NWT Championship, and even fewer have the opportunity at a chance to win an Angler of the Year title. However, Ranger/ Mercury Pro-Angler John Hoyer made history when he won both titles at the season ending 2023 National Walleye Tour Championship on Devils Lake in North Dakota.



The Minnesota angler caught a total of 93.06 pounds over the course of the three-day championship, including the largest bag of the tournament on Day 2 with a five fish walleye limit weighing 39.12- the largest bag weighed in during the 2023 Bass Pro Shops & Cabela's National Walleye Tour (NWT) presented by Progressive championship.



"WOW, is all I can really say", said the Ranger/ Mercury pro who accomplished his first angler of the year title and third NWT Championship title. "The first thing I really have to say, is thank you to my sponsors. Without their support none of this is possible, and today just shows how awesome all of the partnerships that I have can really pay off".

John previously won the NWT championship in 2019 and 2022. He is the first angler to win back-to-back NWT Championship and the first to win three. In total this week, he walked away with $202,790 in cash and prizes. This includes a 2023 Nitro ZV20 powered by a 225 Mercury Pro XS for winning the 2023 NWT Championship, and a 2023 Ranger 620Pro powered by a 250 Mercury Pro XS for accomplishing the 2023 Progressive Angler of the Year honors. In addition, John gets to take home the $10,000 Ranger Cup Bonus for being a qualified Ranger Boat owner- the highest paying contingency bonus in professional walleye tournaments, and $1,000 in Mercury Bonus cash.


John reported catching all of his fish during the three days on competition on a Berkley "Champ" Swimmer rigged on a 1/4oz Berkley Fushion19 Jighead, a Berkley Agent E Swimbait, and when the fish got "cranky" as he called it he would down size to a jighead with a nightcrawler. "The crawler actually saved my tournament because it helped me catch most of my quality fish, including the 11-pounder from yesterday", said Hoyer. All of his baits were fished on Abu Garcia rods & reels.

?

"I want to thank Devils Lake, ND and their help to pass recent legislation that helps tournament anglers like myself. Devils Lake is an awesome walleye fishery, and this week has been phenomenal, the crowds have been what we wanted all year- they really showed us a lot of support. But now, it's time to go Elk hunting".